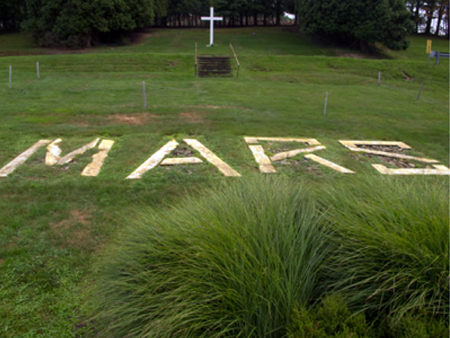 eteam
is the New York-based duo of German artists Franziska Lamprecht and Hajoe Moderegger. They conduct a kind of experimental geography for much of their work, exploring the social life of spaces.
In 2006, their project, International Airport Montello, involved the purchase of land in a remote area of Nevada, and the attempt to revive an abandoned airstrip, with the enthusiastic participation of the citizens of the nearby town of Montello. Prior to visiting Montello in 2004, eteam purchased a 10-acre plot of nearby land on eBay for $1,900. Upon visiting their geographic holdings (which they bought based on affordability rather than any particular interest in Montello), eteam discovered that the town had an abandoned airstrip some 6,000 feet in length. In fall 2006, eteam and a group of curators, writers, arts patrons and arts professionals visited the "International Airport Montello" in Nevada. The trip's purpose was to stage a protracted layover and reactivation of the airstrip. eteam and Montello residents revamped both public and private spaces to transform the town into "a place like any other airport."
UCR ARTSblock commissioned a project by eteam for Free Enterprise, which is multi-media, two-channel video installation, The back up tapes of Moon and Mars, July 2012, referring to a story on National Public Radio in 2009: "An exhaustive, three-year search for some tapes that contained the original footage of the Apollo 11 moonwalk has concluded that they were probably destroyed during a period when NASA was erasing old magnetic tapes and reusing them to record satellite data." For this work, they "explored" the real-named towns of Mars and Moon Township in Pennsylvania. Their approach was documentary, positioning themselves as cultural anthropologists, exploring the towns as if they were simulated environments on Earth as training for eventual living on the planet Mars and Earth's satellite, the Moon.
"From Mars to Moon to the World," is the motto of Mars Travel Agency situated on 128 Grand Ave. Mars, Pa. 16046. The motto is an inside joke, because if you live in Mars, the closest airport to get out into the world is in Moon Township, PA. With this in mind, eteam has written about the towns and this project: While the origin of the name Moon for this particular location in Pennsylvania is unclear, its function is obvious. Moon, Pa, pop. 24,185 is a simulation for life on the moon. They way the settlement is built, the size of it, its Apollo picnic area and the town's motto "Explore our universe" neither prove nor deny the town's surrogate status, and therefore blend into the rest of American life on earth rather seamlessly.
23 miles North, Mars Pa, pop. 1,745 is a currently much smaller experiment of space colonization but due to the increased interest in Mars and a recent tax break, it is expanding and growing rapidly. Mars acknowledges its status through a flying saucer on the towns green where other municipalities put fountains and statues and little green men adorning official borough stationary. Private enterprises like Planet Mart, the Mars National Bank or the Mars brew house are less subtle and exploit the business opportunities that come with the name more openly in either their name, slogan or business logo.
eteam's installation consists of a video diptych in front of a floor to ceiling backdrop of TyVek weatherization membrane paper that was an ubiquitous feature on the homes under construction throughout the landscape that they toured (perhaps a detail that stood out for eteam since these new homes would be viewed as "new settlements" on far away planets in these "simulations" on Earth); photographs that the artists took during their exploration; and finally a copy of a novella that eteam has written based on their observations in the two towns. For eteam, the idea of a long-term performance and commitment is captivating. The experiment to live in a distant future while simultaneously maintaining a continuum in the present is interesting, but even more fascinating is the fact that it's impossible to admit it. Inhabitants of Mars and Moon going about their daily routines and duties knowing that the way they are living will affect the future of all mankind. At the same time they can't let this knowledge influence their behavior, or it would "endanger the mission."
In order to find out how both places cope with their roles and how their inhabitants deal with their unique challenges, eteam spent time in Moon and Mars to observe its life and its occupants. They booked sessions with a local intuitive counselor as an attempt to find a pathway into simulations of Mars and Moon. Questions explored during these sessions were based on eteam's observations such as the comparison of Mars' growth to a petrified fern or lichen, the appearance of crop circles around Mars, telepathy as a way to communicate: What were the choices for starting the simulations of Moon and Mars in this particular area of the country? Do the development look like lichens because this life form has proven to survive in some of the most extreme environments on Earth and therefore could be very adaptive to an extreme climate such as on Mars or Moon? What special skills have the space settlers developed? What connection is already existing between the terrestrial Mars and the Planet Mars? How do the inhabitants of Moon and Mars deal with homesickness, their longing for earth and how can this longing be simulated? Is that something that drives them–the promise to be able to return home one day to earth?
• left:
Entrance to town of Mars, PA from
The back up tapes of Moon and Mars,
July 2012, video installation commissioned by UCR ARTSblock.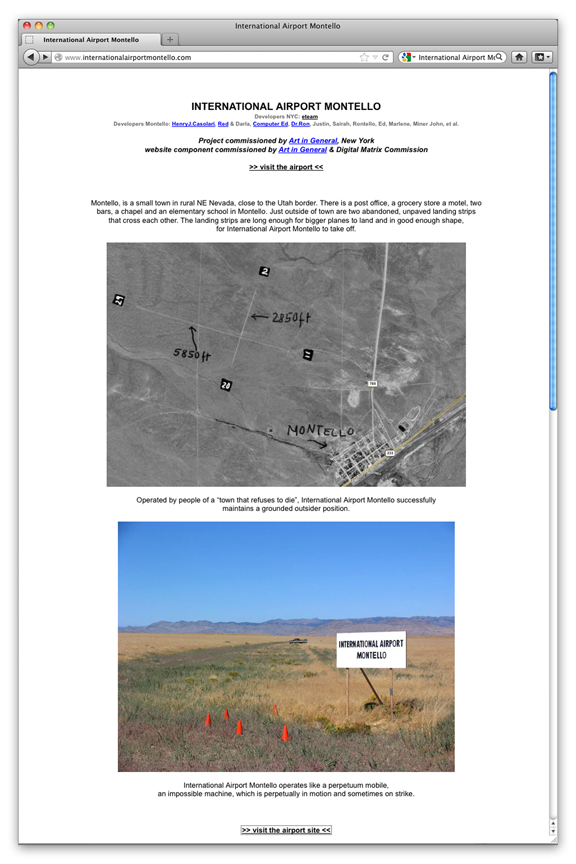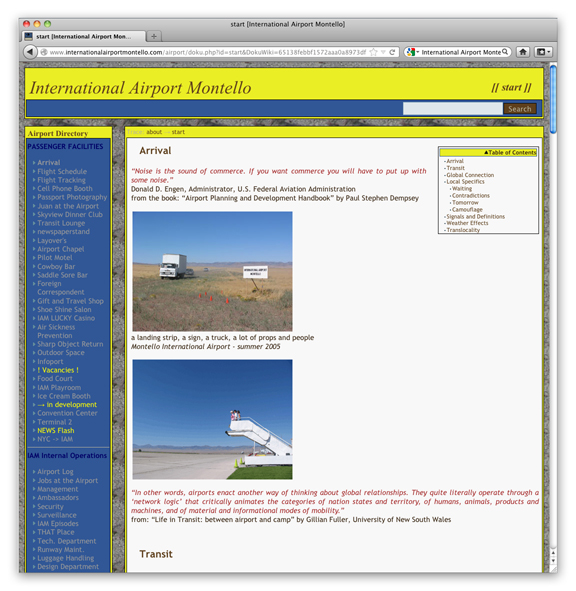 • International Airport Montello, 2006-2008, website documentation. Installation and performance, Montello, Nevada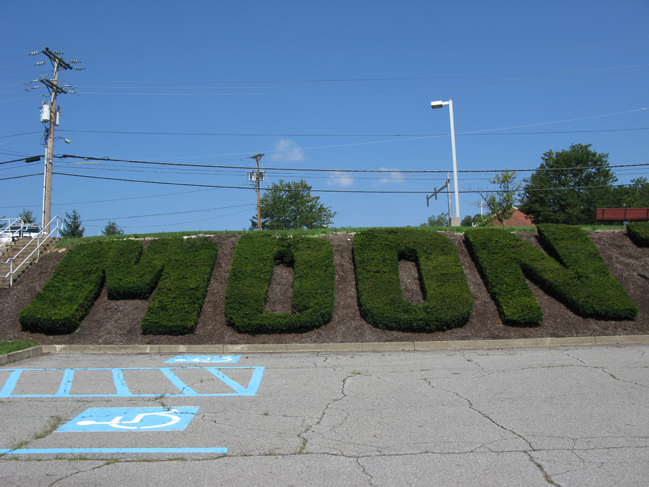 • Entrance to town of Moon, PA from The back up tapes of Moon and Mars, July 2012, video installation commissioned by UCR ARTSblock.

• Ubiquitous use of TyVek weatherization material on houses in Moon and Mars, and used in artist's installation from The back up tapes of Moon and Mars, July 2012, video installation commissioned by UCR ARTSblock. All photos courtesy of the artists.