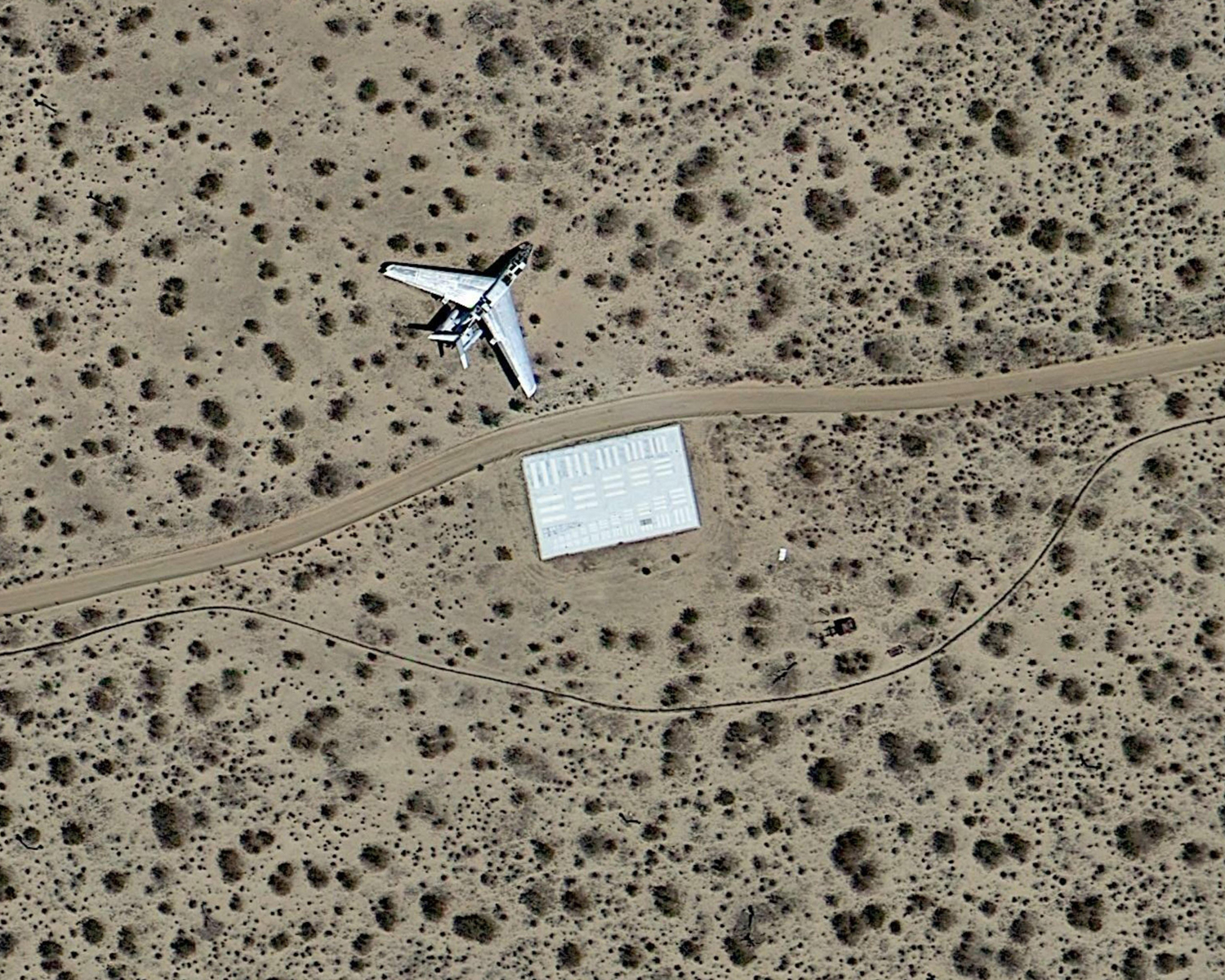 Center for Land Use Interpretation
(CLUI) is a research and education organization interested in understanding the nature and extent of human interaction with the earth's surface, and in finding new meanings in the intentional and incidental forms that we individually and collectively create. CLUI believes that the manmade landscape is a cultural inscription that can be read to better understand who we are and what we are doing. At the very least, the Center attempts to emphasize the multiplicity of points of view regarding the utilization of terrestrial and geographic resources. CLUI was founded in 1994, and since that time it has produced dozens of exhibits on land use themes and regions, for public institutions all over the United States, as well as overseas. The Center publishes books, conducts public tours, and offers information and research resources through its library, archive, and website.
CLUI's project, newly created for Free Enterprise, is Fifteen Tri-bar Arrays, Photo Resolution Range, Edwards Air Force Base, California (from west to east). It consists of fifteen photo targets that lie in a row on the southeast side of Edwards Air Force Base in the Mojave Desert north of Los Angeles. They are used for aerial photography, to test, calibrate and focus cameras on board aircraft travelling at different speeds and altitudes. The pattern painted on the pads (sets of parallel and perpendicular bars, duplicated at different sizes) functions like an optometrist's eye chart, where the smallest group of bars that can be resolved marks the limit of resolution for the optical instrument being used. Until recently, these photo targets have been obscured from public view, as they are located inside an active military base, with restricted access to its grounds and air space. Now they are easily seen through internet mapping systems, such as GoogleEarth. They became visible to the world when the advanced aerial imaging systems they helped create were made available to the public, half a century later.
This is a project that will have evolved out of past, related projects such as The Nellis Range Complex: Landscape of Conjecture. The Nellis Range Complex is the largest restricted area in the USA. Within this Connecticut-sized hole in the otherwise open range of Nevada, are military landforms and activities that are only vaguely understood by outsiders. Among them are physical full-scale models of the anticipated battlescapes of other nations, which are linked to electronic warfare infrastructures that extend through thousands of square miles of restricted airspace, and into space. New and unknown weapons systems are tested at ranges dedicated to secret research. It also, most notoriously, is home to a range popularly known as Area 51. To the public, and the world, the Nellis Range Complex is a global site of uncertainty and possibility, engendering speculation, and fear. It is a virtual terrain, inhabited with the projections of whoever chooses to gaze upon it, a modern terra techno-incognita. And a space, due to its opacity, that reflects back the extremes of culture that project upon it.
Additionally, the project grows out of one of CLUI's larger, thematic divisions in its searchable database: "Air/Land." The relationship between land use and the sky is the subject of this thematic program area. The land and sky are linked in many ways. Aerial photography and satellite observation are critical to an understanding of the earth's landscape dynamics. And the mountaintop observatories that gaze out into space provide a clearer picture of planetary phenomena. Airports, tracking stations, and aviation beacons link the aloft to the land.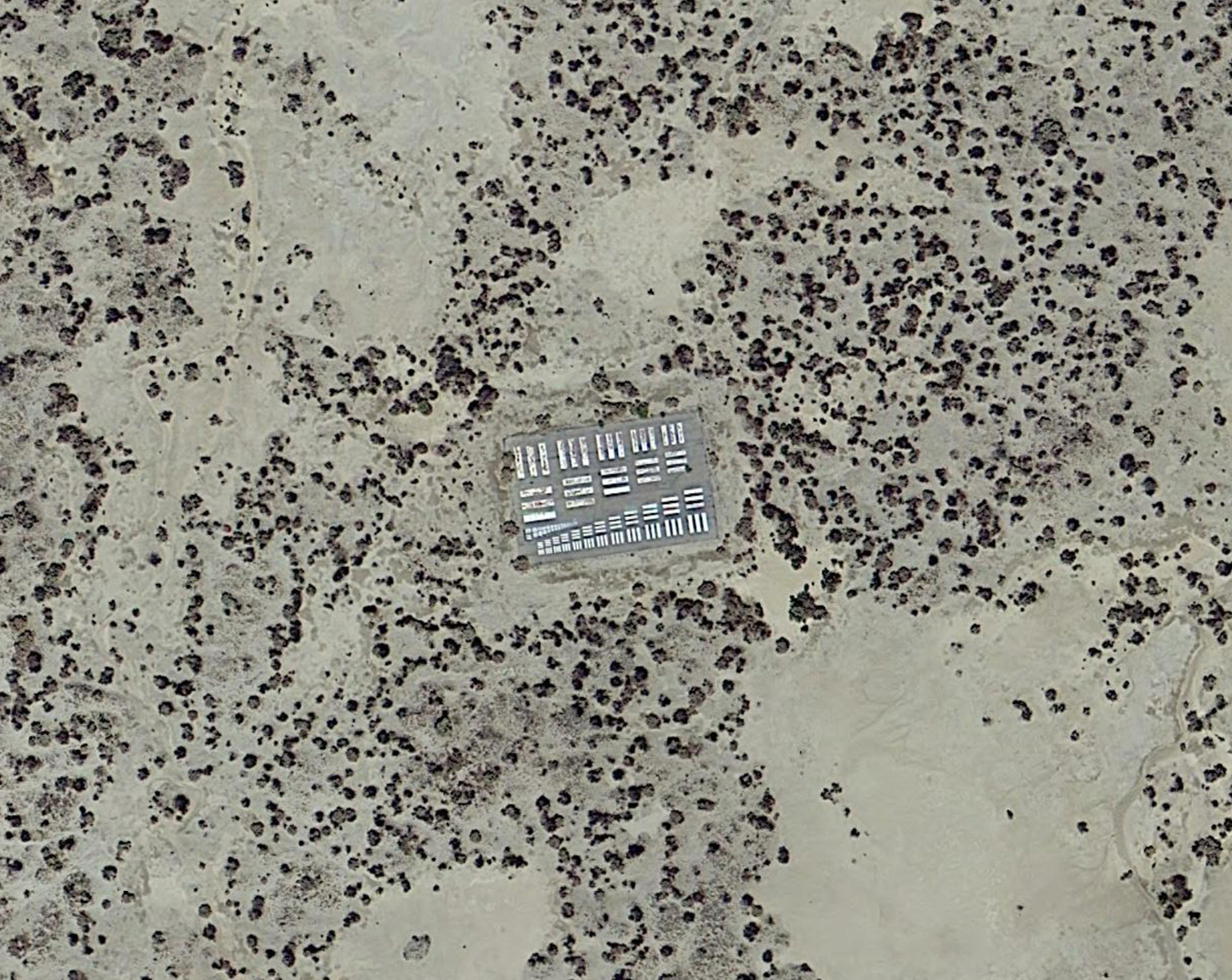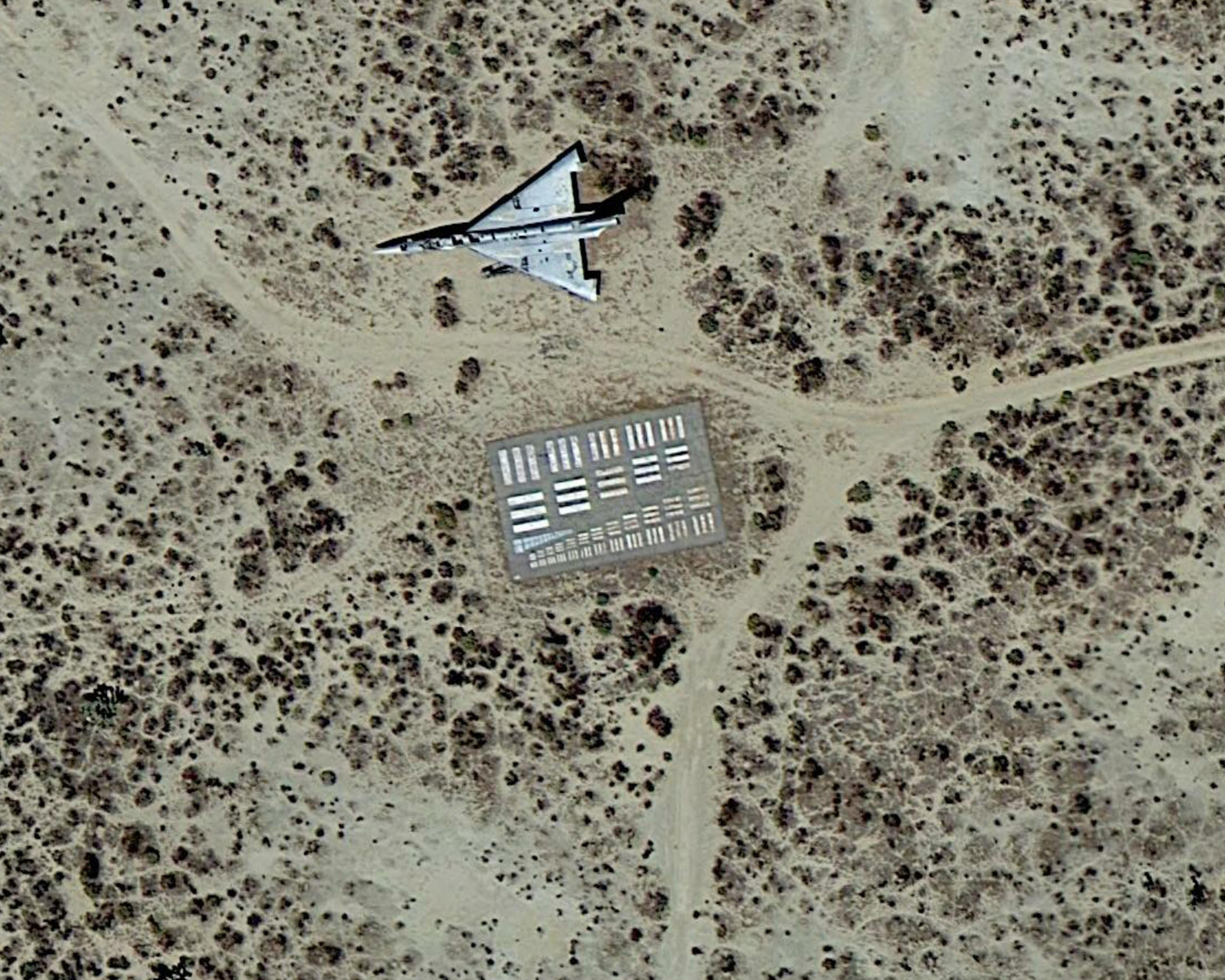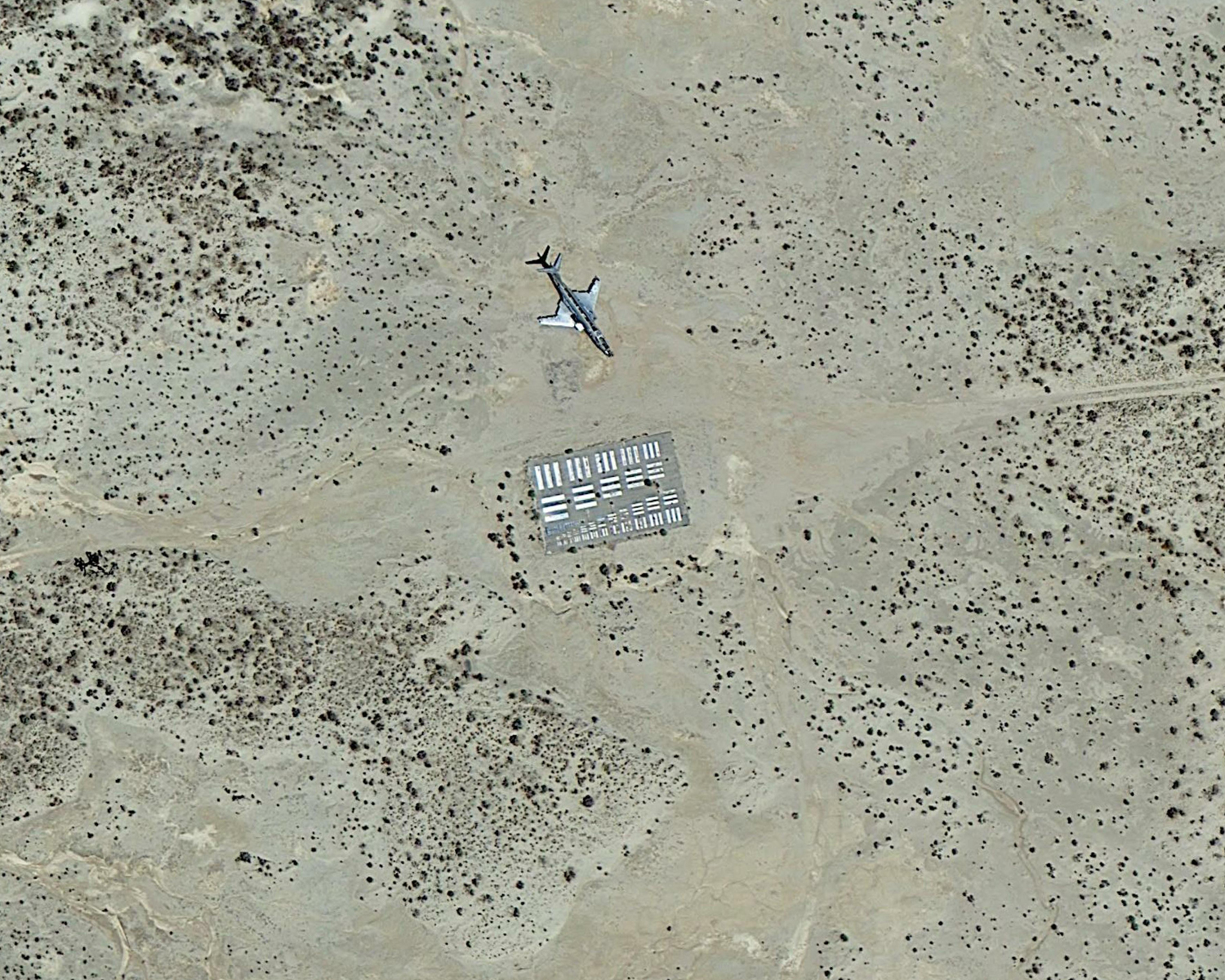 • Four out of fifteen images from Fifteen Tri-bar Arrays, Photo Resolution Range, Edwards Air Force Base, California (from west to east), 2012, 15 images, 8 x 10 inches each, unframed, mounted, imagery from GoogleEarth. Scaled and cropped by the Center for Land Use Interpretation.