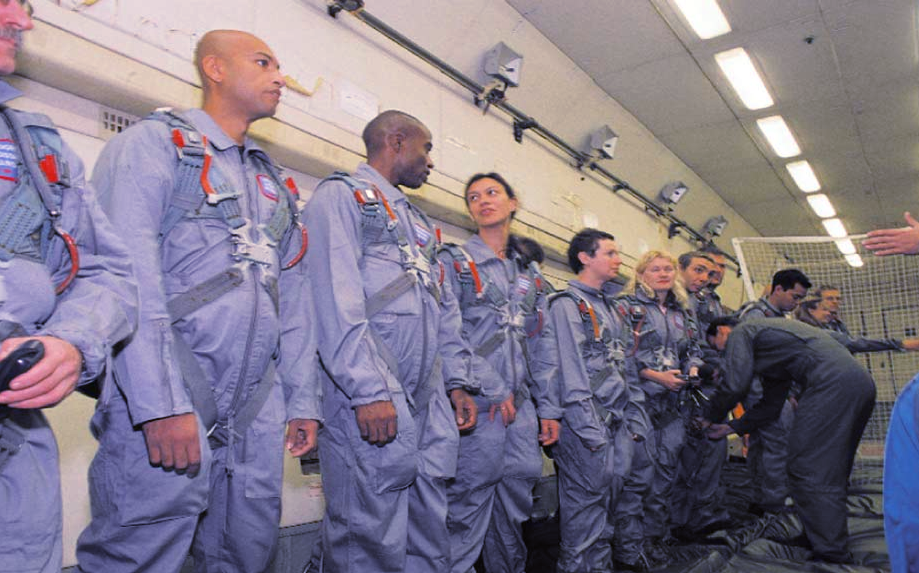 MIR (Microgravity Interdisciplinary Research)
came out of artistic-scientific activities that Project Atol Institute had carried out in cooperation with Yuri Gagarin Cosmonaut Training Centre in the Moscow suburb, Star City (Zvyozdny Gorodok) since 1999. Rob La Frenais, curator of The Arts Catalyst organization in London was also invited to participate in a parabolic flight training of the
Noordung Biomechanics
project conceived by Noordung Cosmokinetic Cabinet. On that occasion the possibility to cooperate with future Project Atol Flight Operations opened up. 
From this first contact a series of two flights developed, which were financed by The Arts Catalyst and in 2002, the consortium MIR (Microgravity Interdisciplinary Research) was founded in cooperation with partners from France, The Netherlands, Great Britain and Russia.
In the framework of this consortium, two additional experimental parabolic flights were accomplished in 2003 thanks to the support of the Culture 2000 program. 
The projects were aimed towards cooperation of artists and scientists from more than ten countries in conditions of parabolic microgravitation. Cooperating artists and scientists from Slovenia were Marko Peljhan, Dragan Živadinov, Dunja Zupančič, Vadim Fishkin and the Project Atol and the Noordung Cosmokinetic Cabinet teams.
 A result of this consortium was that in 2003, V2, an organization based in the Netherlands, co-organized a series of parabolic flights and activities at the Yuri Gagarin Cosmonaut Training Centre in Star City (RUS). The first outcomes, research and projects of the participating artists and scientists of these flights were unveiled during the Architecture Biennial 2003. The ideas and experiences among experts from various disciplines were exchanged and the relevance of these experiences discussed in the realm of "disembodiment versus physicality in virtual reality." The physical properties of zero gravity initially appear obvious, but the effect on the mind and body – on movement and physiology – as well as upon materials is a very recent area of research.
The physical properties inherent within zero gravity rarely form part of our conscious perception. Much of our physical system is adjusted to and indeed "designed" by the gravitational forces that work on our body. Even though we are not particularly aware of how gravity affects our physical system, these forces have a great impact on both body and mind. The ability to remove the effects of gravity as a variable in human physiological research has only been available to scientists since the start of the space race. The only practical means with which to alter gravity in relation to the human body are through centrifuges (increasing gravity), off-planet space travel or orbit, free-fall, scuba diving and underwater sojourn, parabolic flight or through its simulation with virtual reality.
Until today research in this field has also mainly been conducted by scientists. The MIR project and his cultural partners approaches outer space with its unique conditions such as the variations in the force of gravity now for the first time in human history from an artistic and cultural point of view.
http://www.artscatalyst.org/projects/detail/mir_flight_001/
http://www.artscatalyst.org/projects/detail/zero_gravity_book/
http://www.v2.nl/archive/works/microgravity-interdisciplinary-research
http://www.ccp.si/english/izpis.php?id=342
• left:
MIR,
Flight 001, Star City Russia,
2001.
Photo courtesy of The Arts Catalyst.

• MIR, Zero Genie with Jem Finer and Ansuman Biswas, MIR Flight 001, Star City, Russia, 2001. Photo courtesy of GCTC/The Arts Catalyst.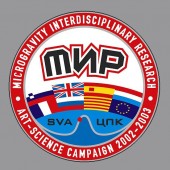 • MIR, Art-Science Uniform Patch, 2002-2003.