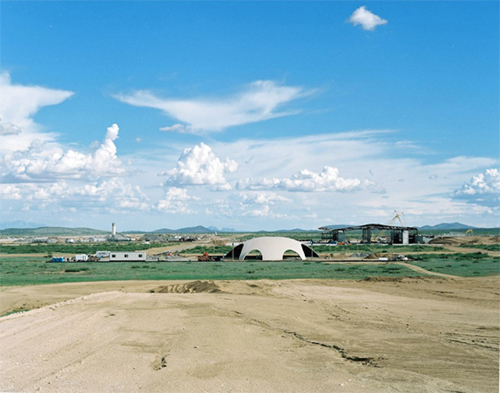 Connie Samaras lives and works in Los Angeles. Working primarily in photography and video, she employs a variety of interdisciplinary frames and aesthetic strategies in developing projects. Her ongoing interests include the variable membrane between fiction and real world; political geographies and psychological dislocation in the everyday; speculative landscapes and architectural narratives; science fiction genres and future imaginaries; the legacy of U.S. social change movements in a shifting global economy; paradox and the political unconscious; desire, popular culture, feminist and queer theory; art as historical artifact, the aesthetics of time, and differing systems of cataloguing history.
For Free Enterprise, Samaras presents a selection of large-scale photographs from her Spaceport America series. It explores the new commercial outer spaceport being built outside Truth or Consequences, NM near White Sands Missile Range. This port will eventually service both tourists traveling to outer space (currently being pioneered by Virgin Air) as well as various future commercial space ventures.
Normally, the public does not have access to the Spaceport while under construction, nor will they be able to drive to it the future, once opened, according to Samaras. She able to gain entrance by arrangement from Merry Scully at the New Mexico Art Museum when she invited Samaras to exhibit her work there.
The architecture of Spaceport America, a commercial space station, is reminiscent of the terminal designed by Eero Saarinen for the Trans World Airlines Flight Center, which opened in 1962 at John F. Kennedy International Airport. Charged with capturing "the spirit of flight," Saarinen created a design suggestive of a bird's wings in flight. One of the unique aspects of its design was soaring windows that allowed passengers to view departing and arriving flights, that is, to witness human imagination, initiative, and inventiveness. On their website, the architects of Spaceport America, Foster + Partners, use language evocative of the TWA terminal: "The sinuous shape of the building in the landscape and its interior spaces seek to capture the drama and mystery of space flight itself, articulating the thrill of space travel for the first space tourists."
In Samaras' photographs, it is hard not to see similarities between the soaring wings and windows of the two terminals. However, she focuses not on the finished Spaceport America building but rather on its construction phase, emphasizing the behind-the-scenes effort required to evoke the "thrill of space travel" by having to consider the building's geographical setting, the labor that is involved, and its relationship to the history and past inhabitants of the region. In Samaras' photographs of the in-progress building, the desert landscape is depicted as barren. People are absent; it is as if the architecture rose from the ground, ready to launch our ephemeral desires to leave Earth. Shot from a distance, Terminal Construction, Entrance (2010) depicts the terminal merged with the horizon. In Terminal Hanging Facility, Facing Mission Control (2010), the terminal, viewed from the runway, looks like a stereotypical saucer-shaped UFO that has just landed, as if intentionally alluding to the pop culture imagination. Part of her intention with focusing on the landscape is to indicate that we are on a planet already. That is, she is bringing our attention to what we ignore here while thinking of going out there.
At first glance, Samaras' apparently impassive compositional approach, found in much of her work from the past decade, creates a liminal space for the viewer, who is then forced to negotiate Samaras' seemingly ambiguous stance: Is she simply documenting a building or trying to examine the fraught spirit of progress that the building unwittingly expresses? Samaras' sentiments clearly lean toward questioning an imagined future that embodies a utopian desire for creating the perfect society through technological means.
This sentiment is explored further in another series of work in Free Enterprise that goes behind the scenes at the New Mexico Space History Museum's archives, which includes an innocuous metal cabinet with archives of Spaceport America. Again, public access is not usual and was made possible by Scully.
Located in a state that was the site for Cold War nuclear bomb development, continues to host secret military bases, and depends upon tourism that is based on the intersection of Western and indigenous cultures, Spaceport America unknowingly embodies today's global capitalism that takes the basic attitude of "Just Build It!" and let the consequences drive future policy. Samaras' oeuvre suggests that one of the consequences of all these futurisms could be the birth of another Manifest Destiny.
http://www.conniesamaras.com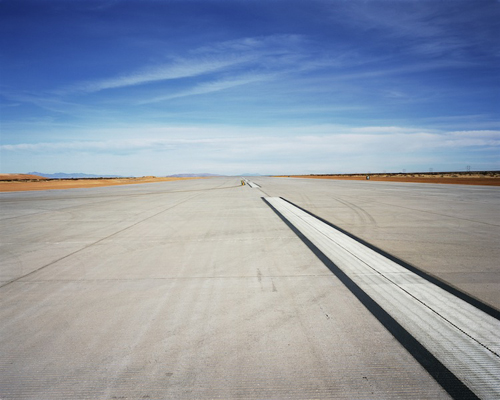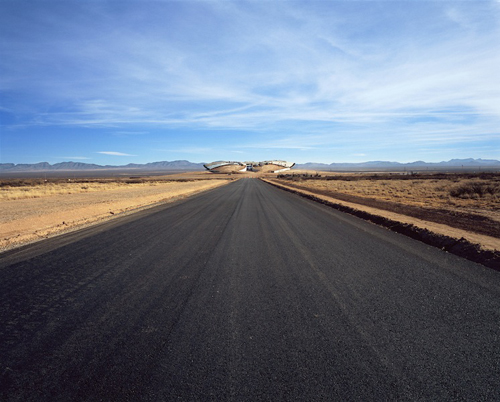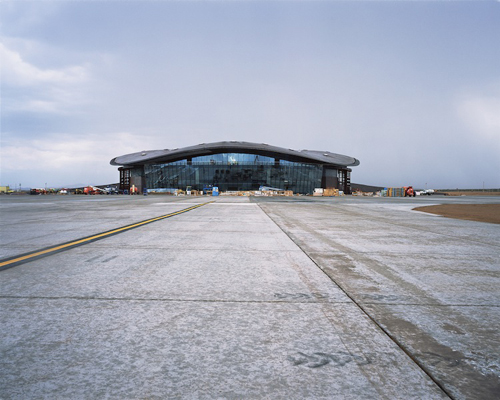 •
images 1-4:
From the series 
Spaceport America,
2011, archival inkjet print from film, 30 x 40 inches each. Exploration of the construction of Spaceport America, the new commercial outer spaceport being built outside Truth or Consequences, New Mexico near White Sands Missile Range.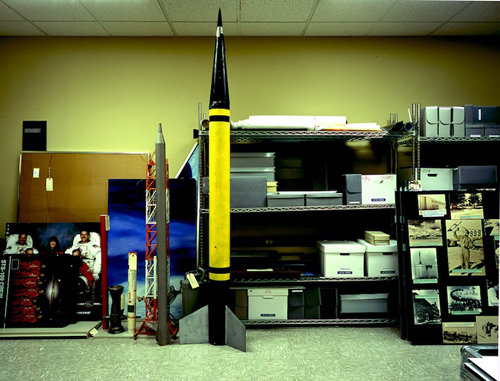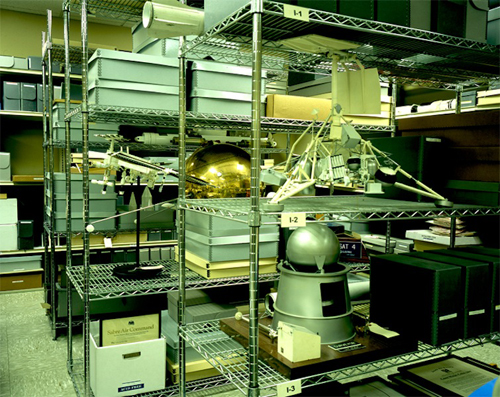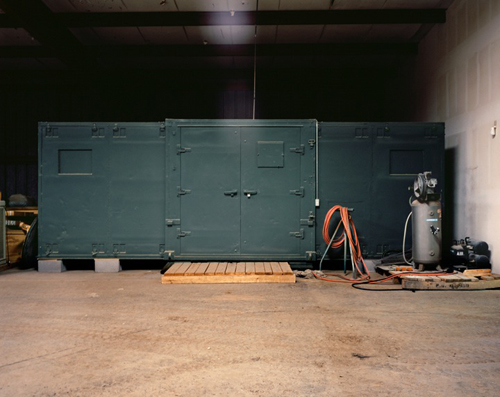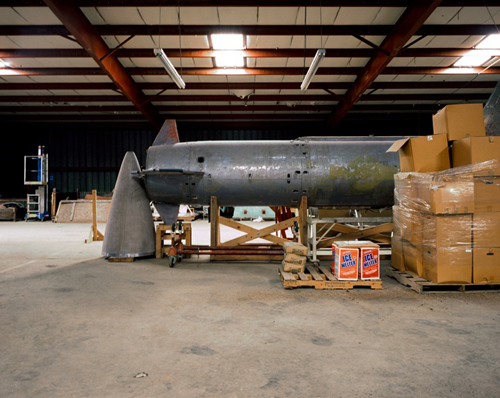 • images 5-8: From the series New Mexico Space History Museum, 2011, archival inkjet print from film, 24 x 30 inches each. All images courtesy of the artist.