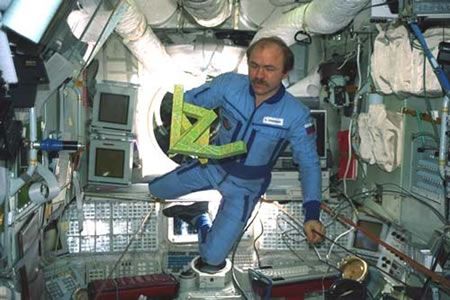 Arthur Woods was born in Tahlequah, Oklahoma, in 1948.

 His involvement with space began at the early age of 11 when he personally witnessed the beginnings of the U.S. space effort from 1959-1970 while living in Merritt Island, Florida near Cape Canaveral and the Kennedy Space Center. While a university student, he held jobs at the space center during the Apollo program in the summers of 1967 and 1968. 

He studied art and psychology at Mercer University in Macon, Georgia. After graduation in 1970 and completing U.S. military service in 1972, he began his art career in California before moving to Switzerland in 1974 where he now lives and works.
Drawing on this early experience, beginning in the mid-1980's, he initiated a number of "art-in-space" projects. The early projects, such as the O.U.R.S. – Orbiting Unification Ring Satellite and the OUR-Space Peace Sculpture, which is presented in Free Enterprise, were developed extensively and resulted in agreements signed with the former Soviet Union and the construction of full size model of an inflatable space sculpture (OUR-SPS) by the Russian industrial firm NPO Energia in 1990.
On May 22, 1993, the Cosmic Dancer sculpture was the first of his artworks to be launched into outer space. Sent to the Russian Mir space station with the purpose to investigate the properties of sculpture in weightlessness, the Cosmic Dancer sculpture was the first three-dimensional artwork purposely designed and officially integrated into a human habitat beyond Earth. The artwork was never returned to him and may have been aboard Mir when it was de-orbited in 2001.
The Cosmic Dancer is a painted geometric form made out of welded aluminum tubing measuring approximately 35 x 35 x 40 centimeters and weighing exactly one kilogram. These dimensions were prescribed by the parameters of the Mir station environment. The color scheme of the flight sculpture was based on the following criteria: (1) the sculpture had to have sufficient contrast with the Mir environment in order to insure that good images could be obtained on film and video and, (2) it should offer an "aesthetic" contribution to the cosmonauts' living quarters. With these two considerations as a guide, a dominant green color scheme for the flight object was chosen.
This decision for the color scheme was reached after viewing photographs and video tapes of the Mir station interior, which indicated a somewhat drab environment that was crowded and cluttered with equipment, tubes and cables. Green was also considered because of its association with terrestrial plants and the psychologically calming effects that associations with nature are reported to induce.
After its arrival on the Mir space station, cosmonauts Gennadi Manakov and Alexander Polishchuk allowed the Cosmic Dancer to freely float and spin in their living space. They were instructed by the artist to evaluate the impact of having art share their weightless environment. They made a photographic and video documentation of their interaction with the Cosmic Dancer and recorded a commentary of their experience.
The Cosmic Dancer represents a convergence of several directions in his art that the artist had been developing since 1976. At that time Woods looked to science to see what it had to say about the nature of reality. What he discovered and what has influenced his art ever since, was a description of the universe at the microcosmic level consisting of sub-atomic particles in an inseparable network of interactions. These interactions involve a ceaseless flow of energy which gives rise to the stable structures of the material world or the macro-cosmos. The structures that make up physical reality do not remain static but are transient and oscillate in rhythmic movements. Thus the entire universe is engaged in endless motion and activity: in a continual cosmic dance of energy. The Cosmic Dancer takes this concept to its logical conclusion. By taking advantage of the micro-gravity environment found in Low Earth Orbit (LEO), the Cosmic Dancer could indeed be perceived from an infinite number of perspectives and "dance" its own dance in the cosmos.
In September 1995, in a cooperation with the European Space Agency (ESA), he organized a second art-in-space project called Ars ad Astra: The 1st Art Exhibition in Earth Orbit, a collection of original artworks from 20 international artists which was flown to the Mir space station as a part of ESA's EUROMIR'95 mission.
Woods has been active in the promotion of a cultural dimension to humankind's space activities working with the International Academy of Astronautics (IAA), of which he is a member, the European Space Agency (ESA) and the International Association of Astronomical Artists (IAAA). Also, he has a long collaboration with Leonardo—The Journal of the International Society of Art, Science and Technology and its French organization Olats. In collaboration with Leonardo/Olats, Woods has co-organized a number of space art workshops and the Spacearts Database project that aims to become the most comprehensive reference on the subject of space art.
http://www.arthurwoods.ch/english/space_art.php
http://spacearts.org/en/db/get_artist.php?id=1
http://www.ours.ch/information.php
http://www.cosmicdancer.com

Video of Cosmic Dancer:
http://www.cosmicdancer.com/cosmic_dancer_videos_on_youtube.php
• left:
Still from video documentation of
Cosmic Dancer,
1993, sculpture being manipulated on the Russian Mir space station.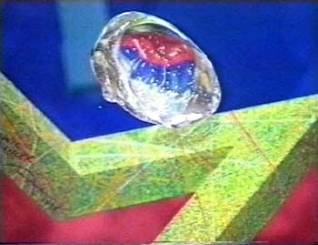 • Water droplet near Cosmic Dancer during zero-gravity on Mir space station.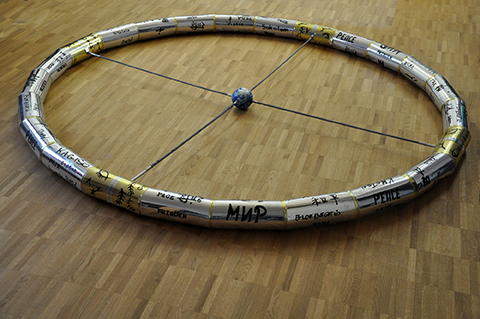 • OUR-Space Peace Sculpture (OUR-SPS), 1989, 72 inches diameter, model for proposed inflatable space sculpture.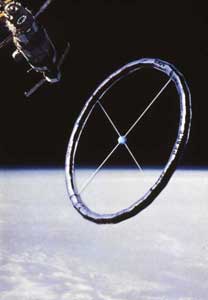 • Illustration of full-scale OUR-Space Peace Sculpture (OUR-SPS) deployed from the Mir space station in outer space. All photos courtesy of the artist.