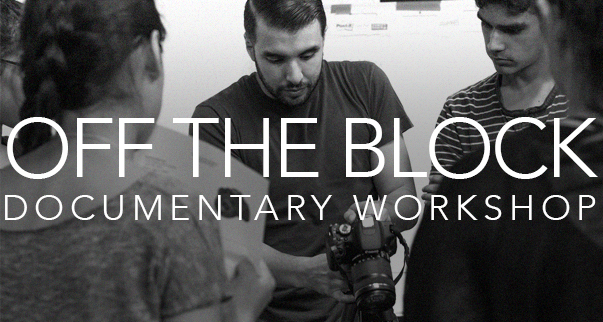 Off the Block is an award-winning, free media literacy and video production workshop that started as a direct response to the profound need for youth arts programming in the Riverside area. The area's population has ballooned in the past decade, but the infrastructure of the region has not kept up with the needs of its youth, particularly in the area of arts programming. ARTSblock is a uniquely well-suited educational resource for Riverside youth, given the professional arts experiences it can provide as well as access to UC Riverside opportunities. ARTSblock is committed to providing a dynamic, vigorous presence in the cultural and intellectual life of the Riverside community and surrounding areas of Southern California. Off the Block has had five successful years with students winning awards and prizes at several film festivals (Big Bear, PBS, ADOBE).
The program is designed to teach local high-school aged students all the necessary skills to make their own documentary film, from pre-production and planning, to filmming and editing. The 4-week course culminates in students collaborating and producing films of their own. The final productions are shown at a special screening/reception for family and friends in the Culver Center Screening Room at the ARTSblock. This is a great opportunity for promising young filmmakers to create their own short documentaries!
No prior filmmaking experience is required! Open to participants ages 15-19. The workshop is free but space is limited. Due to high volume of response, admittance into the workshop will be through an application process. Participants must submit an application to be considered for admission into the workshop. Students accepted into the workshop must attend all workshop dates. Click here to apply to the 2017 workshop.